Fire your IT guy: Explore our Managed IT Services
IT should give you freedom from the headaches and allow your business to grow, not slow it down. As one of the top managed IT support services providers in Phoenix and all across Arizona, ParksideTech helps make sure your business has a competitive advantage by managing the technology that is essential to the success of your business. Our Managed IT services are tailored to meet your needs, from remote monitoring systems, Office 365 support, and IT security, ParksideTech will provide your business with industry-leading IT support services.
Managed IT Services:
What are the Benefits of ParksideTech Managed IT Services?
Our managed IT service plans are meant to scale and meet the needs of your business. Our top to bottom IT service plans includes expert-level support, on-site or remote IT Management, 24×7 remote Help Desk support, Cloud-based tools and technologies, and Information Security solutions.
Predictable Costs for Managed IT Services
Our prices are visible at all times and month to month, no contracts
Flexibility to Scale Up or Down
Our managed IT plans allow you to change your managed IT support based on the needs of your business.
Fully Managed or Co-Managed
You choose! Leave all of your IT services to our team, or we can work right alongside you in-house IT person.
A Suite of Must-Have Cloud Tools
We have access to all the latest and greatest tools and software to help with your IT related needs. Our team is experienced and has a suite of tools with remote monitoring technologies to provide problem recognition and diagnosis quickly and efficiently.
Unlimited 24x7x365 Support
Receive access to our IT support desk with certified professionals whenever you need it as part of our managed IT support plan.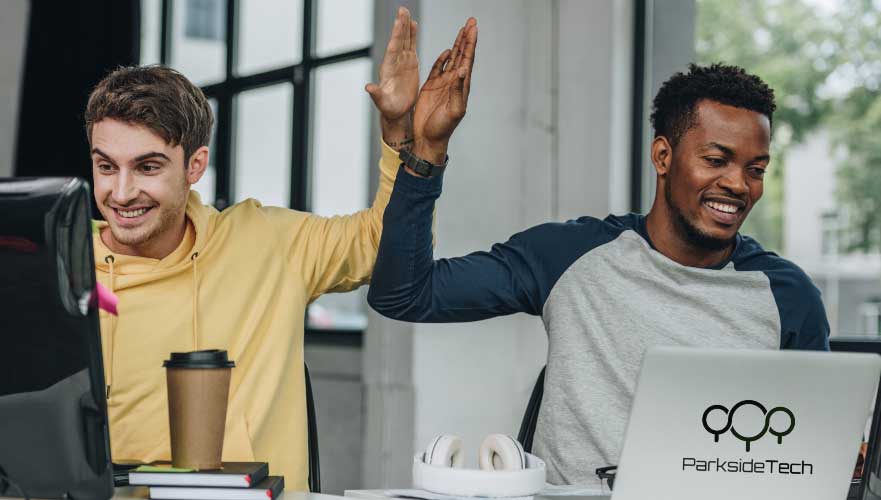 WHAT DO MANAGED IT SERVICES INCLUDE?
We have a team of IT professionals ready to support you with all your tech needs. We support a wide variety of systems and respond to any issues or needs on the same day. Whatever IT situation you are in, and regardless of whether you're in Phoenix, Tempe, Scottsdale, Mesa, Chandler, Peoria, Goodyear or anywhere else in the Valley, we are here to offer guidance and support.
Our IT Services Support plans cover the following:
Laptop, Desktop, POS Support and Management
Computer and Software Upgrades
Antivirus / Antimalware Management and Clean Up
Asset Inventory and License Management
Hardware and Software Purchases
Custom Software Upgrades
QuickBooks Support
Cloud Management – Setup and Support (Office365, G Suite, Azure, AWS, Google Cloud)
WiFi Setup and Management
Backup Management
Support and management of communication systems email, phone systems, internal employee chat systems
Automatic Windows/ Mac Updates
Server Management (Active Directory, QuickBooks, timesheets, shared drives) – Onsite or Hosted in a data center
Office network cable installation
New office installations and office moves
Printer and scanner support
Physical security – Badge access and camera systems
Proactive Managed IT Plans
IT Service Features
Plan 0
Plan 1
Plan 2
Plan 3
Plan 4
Plan 5
Access to a TEAM of 24/7 IT Support Professionals
Support and Management of Company Email and Phone Systems
Desktop / Laptop / Mobile Support
Remote Monitoring and Management of All Devices
Standard Cloud Services Support
Office 365, G Suite, Dropbox, Teams, Slack, SharePoint
Network Management (WiFi, Firewalls, VPN, etc.)
—
Computer Security Management – AntiVirus, Malware, Spam Filtering
—
Server Monitoring and Updates Management
—
Backup Monitoring / Management
—
Application Management
(Active Directory, QuickBooks, Timesheets, Shared Drives, Etc.)
—
Active Directory Policy Management
—
Asset Management
—
—
—
Enterprise Cloud Management and Support
Office 365, G Suite, Dropbox, Teams, Slack, SharePoint
—
—
—
—
Cloud Server Monitoring and Management (Azure, AWS, Google)
—
—
—
—
Servers Managed Per Month (Physical, VM or Cloud Instance)
0
1
3
5
10
25
Included Advanced Support Hours
2
4
6
8
10
15
Unlimited Employees
Monthly Rate
$200
$500
$800
$1000
$1500
$2500
Additional Fees
Once you reach the number of Advanced Support Hours for your Plan, any additional hours needed to complete any new or existing tasks are billed at a standard hourly rate. All hourly fees include travel time. Monthly server work included with the Monthly Plans is based on remote management. If onsite service is necessary, or if remote management is not possible, the Business Hours Support rate will be used. Support requests are handled by logging in to your ParksideTech account: https://manage.parksidetech.com.
Additional 4-hour blocks can be added to any plan: $450/ Mo.
Business HoursAdvanced Support: $125 / hour (billed in 15 minute increments)
After Hours Emergency Support:$175 / hour (billed in 1 hour increments)
Your IT team for a fraction of the cost of an "IT GUY"
We take a proactive approach to monitoring your systems and respond immediately to any needs you have.
Our Partners
Building and earning trust as a managed IT solutions provider means partnering with companies that offer "best-in-class" products and services.